Honeydew
aka    Sandi Rechenmacher
The Many Faces of...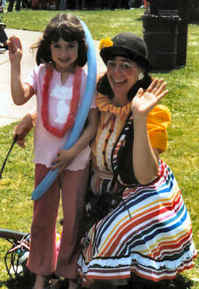 Bursting at the seams with creative surges since birth, Sandi went public with her talents at age nine when she starred in Alice in Wonderland as a dancing card; won first place in a Bay Area art contest (which influenced her third grade teacher to change her 'C' grade to an 'A' in art!); and sewed her first people-sized garment (graduating from designing Barbie clothes). Between then and now?...more of the same. Sandi is a multifaceted 'do it' personality who enjoys many mediums (performance, costume, and prop design and visual arts). She has been a featured performer and designer with Linda Arnold & Friends, First Night Santa Cruz, Paula Bliss Productions and Rock Lerum's Stickman, A. D. & Clean Dirt. When not performing, Sandi may be found co-mingling in the garden with weeds and bugs and all such earthly delights.
A nutritional consultant and credentialed teacher, Sandi's 'daytime-job' includes presentations, workshops and private consultations in healthy life-styling under the banner Simply Nutritious.
Mixing her performance and nutritional arts backgrounds, Sandi shares current nutrition and weight-loss information as a fun and yummy adventure, The Art of Healthy Living classes.
 "Sandi, you can combine fun, art, and nutrition to educate kids in a way they love."        
                 -       Clare P., Rio Del Mar Elementary School, Aptos, CA