Reviews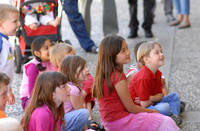 Dear Clown Clubhouse:
I want to thank you for an outstanding day.  You were organized from my first call, showed right on schedule. The entertainment was fantastic.  The large party of kids and parents were completely enthralled and laughing the entire time.  What a value! This made a birthday extraordinary. Great Job!
Tammy & Fred Ruiz, private party, Santa Cruz, CA
• • •
Sandi (Honeydew),
You are great! The kids love you and so do I.
Thanks for all your work.
Cathy Santoriello, Events Coordinator, Plantronics, Santa Cruz, CA
• • •
Rock and Sandi,
Thank you so much for working the Season Ticket Holder event!  It was great and as always the face painting and balloons were awesome!  Again, thank you very much!
Alicia J. Smith, Game Operations Assistant, Golden State Warriors, Oakland, CA
• • •
Rock (Jetlag),
I've watched you at our Rotary Art Show for many, many years. As stated, I was president last year and so have been a committed art show worker and have always been impressed with your rapport with the audience.  Thanks so much.
Reiko Iwanaga, past president, Saratoga Rotary Arts Show
• • •
Thanks, Rock, for putting on a spectacular show. We got rave reviews and the kids seemed to enjoy it all. The laughter said it all.
Imelda Negrete, director, City of Watsonville, Parks & Community Services
• • •
Sandi (Honeydew),
Thank you so much! The kids so ENJOYED you! The face painting was amazing too!
Again thank you for making Kiele's party a great success.
Vickie Perfecto, private party, San Leandro, CA
• • •
Rock,
We love and appreciate your wonderful energy and huge heart. The smiles and wonder you create are unforgettable.
Jacobs' Heart Family, Friends and Staff, Watsonville, CA
• • •
Rock (Jetlag) is the highlight of our festival. His stage show is dynamic alternately stirring the audience into frenzy then conducting calm like a maestro leading an orchestra.
William Rupel, Hands on the Arts, Entertainment Coordinator, City of Sunnyvale, CA
• • •
Rock and Sandi,
We love you and feel so blessed by your inspiration, talent and humor.
Manila Bol, vice principal, Orchard School, Aptos, CA
• • •