Jetlag
aka      Rock Lerum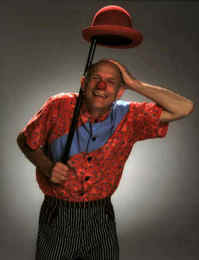 Physical comedian and zany clown through and through, Jetlag has dazzled and delighted people the world round. His zany antics enlist the most benign onlooker, whether he be stilt walking, juggling children (not large ones), or pulling a kerchief out of his or your ear!
Rock has been teaching circus arts and physical theatre throughout Santa Cruz County for the past 25 years. Presently he is an artist-in-residence at The Orchard School in Aptos, CA. Rock is the director of the Orchard School Performing Arts Summer Camp. www.orchardschoolaptos.org
Staged Performances
Rock has entertained audiences worldwide with his own style of madcap physical comedy.  An award winning performer, he has performed with Clowns Without Borders, New Pickle Circus, Tandy Beal & Company, Teatro Pachuco, SOVOSO, University of Santa Clara Dance Company, Linda Arnold, The Saratoga Rotary Arts Show, The Sunnyvale Hands on the Arts Show, The Capitola Art & Wine Show, The Santa Cruz Baroque Festival, and Carl Schaffer Dance Company.
Rock has directed and performed two solo, physical comedy shows to his credit entitled Clean Dirt  and Stickman A.D. , which combine zany characterizations with prop manipulations.
His school and family shows include What Goes Up and Jetlag Unplugged.